Discover a New World, a New You in Belize
BELIZE
The journey Om begins…..
Retreat to your own private island in Belize. As you arrive, naturally shed away a life behind you to reveal a new world within you waiting to be explored just below the surface. Dive into the crystal clear waters to swim with the life under the sea waiting for you to come and play.
Joy is waiting for you here…come discover what is new, what is possible.
Discover a new world…
nOMad is heading back to Belize. Join the nOMad tribe and explore the beauty of the Belize Barrier Reef while diving deep into our own inner landscape through the practices of yoga lead by Phoebe Miller and Becca Roberts.
Our own private island. Enjoy lots of private time on our nOMad tribe's own little mile long Caye rooted by mangroves.
Each day relax into the seemingly endless time and space while syncing our own inner rhythms with the slower pace of life and the sounds of nature around you.
It's your time. Do what you want. Paddle your way around the island, soak in the sun on the beach…Whatever your vibe you want, this retreat is guaranteed carry you to a refreshed new you…
The Venue: THATCH CAYE

"Thatch Caye Resort offers adventure and island fun in a barefoot casual environment. This is a special place offering incredible experiences that you cannot find anywhere else. Our accommodations are breathtaking with a rustic Belizean feel, but only include the necessities, unlike your typical luxury hotel suite. We encourage community and wouldn't be surprised if you leave with a few new friends. The island is limited to 30 guests at a time, so prepare for a vacation that few ever get the chance to experience. Welcome to your private island." -from Thatch Caye
Find out more by visiting Thatch Caye

SEE WHAT'S WAITING FOR YOU JUST BELOW THE SURFACE
the delights...
Accommodations for 5 nights/6 days at Thatch Caye

Choice of ocean cabana or over water bungalow

3 meals per day, snack and all drinks

2 Daily yoga classes

Group Snorkel in the Belize Barrier Reef

Use of paddle board, kayaks, snorkel gear, and fishing poles

Domestic Flight from Belize City to Dangriga Airport

Taxi/Boat Round trip to airport shuttle

Taxes/Gratuities
pricing
Early nOMad Rates
(pay in full BEFORE July 17, 2019)
$2317 per person Double Occupancy
$2767 per person Single Occupancy
Pay in full AFTER JULY 17, 2019
$2567 per person Double Occupancy
$2997 per person Single Occupancy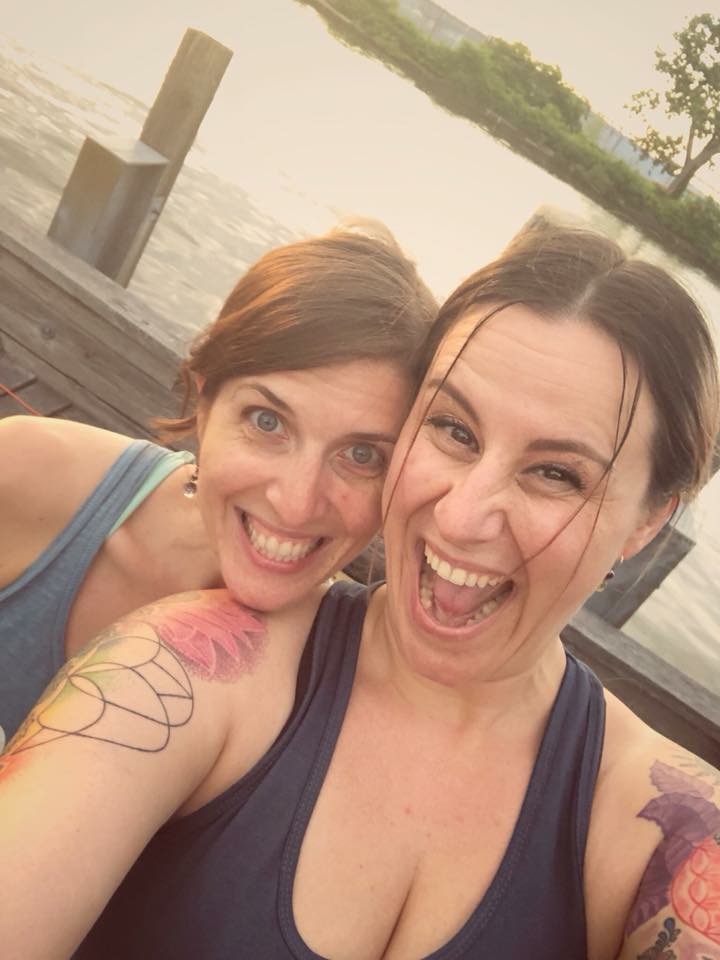 Meet Your retreat leaders…
Phoebe Miller & Becca Roberts
Hello friends!
Phoebe here. This is where I get to share with you my story. I was inspired to begin this nOMadic journey in 2013 after a year full of obstacles. I decided to live out a dream of marrying two of my passions, traveling and teaching. I have always been a firm believer in finding opportunity for growth from all of life's gifts, so I packed up my life and went for it. I am grateful to be building a tribe of nOMads from the ground up now with a thriving Hudson Valley yoga community, a growing global online community, offering various teacher training programs, and bringing you all together on retreats around the world.
My teaching focuses on the importance of alignment, breath, and mindfulness. Through the teaching in a supportive and playful atmosphere, you gain a more profound understanding of you own body and mind. My teaching inspires that through practice, patience, courage, and compassion, yoga can open a world of greater possibilities and deepen the connection to one's core being. With over 20 years of teaching experience, I am so honored for the opportunity to witness your experience as you discover your own rhythm and humbled to guide you on your journey to a whole new world.
Have more questions? Reach out to ME!
Hello from Becca! I am the owner and founder of Namastesis LLC. I consider myself "Always a student of yoga. and it's philosophy."My passion is for the care and understanding of my students on a physical and mental level is one of a kind. I tailor each private and group practice to meet the needs of each individual student.When you come to my class, you can rest assured that you will feel comfortable, safe and at home within your practice.
For me, Yoga is a way of life, and I can't wait to share my practice with you!
What to know more about what I have to offer? Visit my Namastesis website!